Polycarpaea Corymbosa
A plant seen on rocky tops of Nagalassery Hills. It can be used as a source of Parpataka. In Siddha, it is considered as Parpataka. It is having Kshaya rasa predominance.
Botanical name: Polycarpaea corymbosa
Family: Caryophyllaceae (Carnation family)
Synonyms: Kattu-mailochana, Akkaram kolli, Acharam kolli, Akkara poode, Paarappovu etc.
Oldman's Cap is a weed of sandy soils in open woodland and grassland, and of cultivated ground.

It is an erect annual herb, usually unbranched.

Leaves are opposite or appear in whorls, linear up to 3.5 cm long with a bristle at the tip.

Flowers are borne in compact heads at the end of stems. Sepals are silvery white, turning rich brown with age. Petals are small, pink to orange.

Fruit is a minute ellipsoid capsule.

Flowering: August-September.
Therapeutic uses
Crushed and mixed with coconut milk for snake venom

Kashaya is good for diseases occur due to fear or tension etc.

In our institution, we made a kera ksheera ghritam with its kalkam and coconut milk. The oil obtained found effective in non-healing ulcers. Its kalka, obtained after cooking is found to be effective in gastritis also.
It was added in certain taila yogas and found to be very effective in oozing types of skin diseases.
By,

Prof. Dr. Ajayan Sadanandan MD(Ayu), PhD
Head – Ayurveda Ethno Medico Botanical Team
Ashtamgam Ayurveda Chikitsalayam & Vidyapeedham
Dr. Vipin S MD (Ay)
Assistant Professor
Dept. of Dravyagunavijnanam
And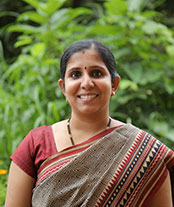 Dr. Sreelakshmi U MD (Ay)
Assistant Professor
Dept. of Rasashastra & Bhaishajyakalpana